Paavo Järvi's recording of the Elgar and Walton cello concertos with Steven Isserlis and the Philharmonia has been chosen as Gramophone's Recording of the Month by Gramophone Magazine.
"… With his immaculate technical address and ravishingly songful, mellow tone, (Steven) Isserlis strikes precisely the right balance between classical strength and private introspection, his contribution as full of radiant spontaneity and tumbling fantasy as one could wish.
"He is also blessed in having such a scrupulously attentive partner as Paavo Järvi, who procures playing of the very highest quality from the Philharmonia. Tempi throughout are uniformly well judged. The first movement ideally combines suppleness and purpose, leading into a quicksilver scherzo that eschews any suggestion of hectic flashiness. To the glorious slow movement Isserlis and Järvi bring an unexaggerated depth of feeling, tenderness of expression and simple flow … The finale, too, is splendid.
"The Walton concerto likewise finds these sympathetic artists at the top of their game … Is this newcomer possibly the finest yet? I'm inclined to think so. After a sultry and intoxicatingly poised opening movement, the central scherzo fairly crackles with wit and ear-pricking detail … An unmissable release."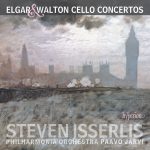 Visit Hyperion for more information